The CCT Spark Tank Awardees are taking part in our Social Enterprise Academy at Bitwise Hive this month to get their award winning business plans ready to launch. Starting January 12, we kicked off our second annual SEA. These entrepreneurs are learning from some of our valley's best collection of business leaders, business practioners, and business professors. True to our tagline, Community Members Solving Community Problems Through Business, we explore the ins and outs of starting a profitable business that addresses specific social issues in our valley. But who are these entrepreneurs and what are they doing?
Goodie Gains
Goodie Gains is a nutritional vegan cookie product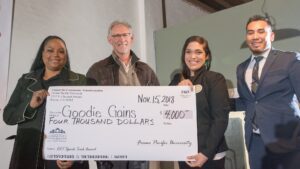 with a concept similar to a fortune cookie, but with a twist. Goodie gains looks to turn one's fortune around by spreading health education and exercise/diet tips to help those with specific dietary needs. The entrepreneur inspired by her own experience, looks to serve those medical conditions by providing a delicious, healthy treat that aims to reduce and prevent health conditions.
LearnMoney App
The mission of the LearnMoney app is to create healthier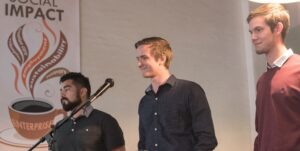 communities through free financial education. LearnMoney is a financial education app that helps students on college campuses in the United States use their money wisely. These students often suffer from a lack of financial health, in turn causing negative effects on individuals, families, and communities that affect physical, emotional, and mental health.
Hack the Brand
This program introduces under resourced youth
of color to careers in marketing and branding, tech and entrepreneurship. Hack the Brand hires and trains them to create marketing campaigns, brand activations, and websites for local small businesses that often lack resources to afford full-priced branding and marketing services. This would help scale struggling small businesses and streamline the training of a more able workforce in an ever-growing sector.
Royal Wear & Wedding Boutique
Royal Wear is a second-hand wedding and formalwear
boutique with a mission to provide work experience to victims of human-trafficking who are completing programs in the central valley. Royal Wear will collect wedding dresses and formalwear to sell at affordable prices. This idea was inspired when the founder realized that victims rescued from human trafficking often did not have employment opportunities due to the lack of experience in a traditional work setting to put on a resume.