The CCT's micro-enterprise training, Launch Central Valley caught the eye of MEDA  (Mennonite Economic Development Associates), an international economic development organization that creates business solutions to poverty that are sustainable, scalable, measurable and replicable. MEDA reported on two of the entrepreneurs who completed the Launch Central Valley training with the following article.
Fresno Pacific Biblical Seminary program helps Central California entrepreneurs get started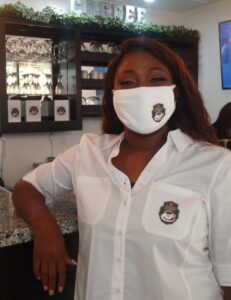 Keshawna Nelson wants to brew coffee and serve a caffeinated jolt to Fresno's future. She's an entrepreneur with a new business: The Java Bar. Her vision is to share knowledge, experience—and yes, profits—so others can build generational wealth where perhaps none existed before. The effect—multiplied by like-minded entrepreneurs—could be a stronger community with less poverty, increased education and greater economic vitality.
Nelson, an accountant, boosted her efforts by participating in the fall of 2020 in a new program developed by the Center for Community Transformation (CCT) at Fresno Pacific Biblical Seminary, part of Fresno Pacific University. Its focus: helping people in underserved communities successfully launch small businesses. "We feel we can have an impact helping people turn a side hustle into their main gig, and at the same time helping families generate more income and move up the economic ladder," says Carlos Huerta, an FPU grad who is the program's associate director.
FPU helped Keshawna Nelson achieve her goal of opening a cafe.
Launch Central Valley offers nine sessions over as many weeks covering topics like marketing, sales, loans and how to deal with attorneys, accountants and government officials. "These are the tough things in starting a business that a lot of folks don't know about or need a little hand-holding to get through," Huerta says.
Nelson and 11 others in Launch Central Valley's first cohort graduated in November.
A second group that began in late January saw 16 complete the training, with 10 businesses up and running before the course ended. A third cohort began in early April, with 12 participating.
Over the next five years, CCT plans to take 300 more entrepreneurs from Bakersfield to Merced through the program. Their participation will be underwritten, in part, by grant money awarded to CCT by the Lilly Endowment, one of the world's largest private philanthropic foundations. CCT recently received a nearly $1 million Lilly grant, which will used for several faith-based initiatives in the next five years.
In Launch Central Valley, Nelson's most important lesson centered on achieving and maintaining a good credit record. "When I first started on this journey, that was an issue with everything I was trying to do." She also learned the importance of sticking to a budget as well as knowing her customers' need for quick service.
The Java Bar is in a business park near Fresno Yosemite International Airport and specializes in coffees from around the world. It opened in early December but only for takeout in the morning because of COVID restrictions. "I'm a coffee connoisseur, and my idea was to open up people's tastebuds," Nelson says. "But this journey to opening The Java Bar isn't about me. The idea is to make money, save money and invest in others. My greatest reward will be to give back to my employees."
In addition to passing along what she's learned in Launch Central Valley, Nelson envisions investing in businesses her employees might one day want to open. "When they are ready to leave me, I want the money to invest in their futures." That also could include helping pay for their pursuit of college degrees. "This is about community and pulling us in all together," Nelson says. "Then Fresno will be better because others will take what I have to give, and they'll pour it back into the community."
That ripple effect is what Launch Central Valley hopes to achieve, says Fresno businessman Doug Davidian, who serves as lead facilitator and a business coach in the program. "Participants' attitudes go from 'I don't know what to do' to 'I have a right to be at the table, and I know what the next step is.' And those entrepreneurs influence 25 to 30 other people, who say, 'If they can do it, I can do it.' " Davidian founded California Business Furnishings (later Contract Interiors) and has served as president of the Fresno Chamber of Commerce and the Fresno County Economic Development Corp. "I want to be involved with this program because God gave me a lot of training, and I can pass along that experience and save these people 10 to 20 years of mistakes."
Sharing such experience is at the heart of the business coach's role, with coaches ideally offering advice for at least a year after the nine weekly sessions. Matthew Blackwood A 1998 FPU grad who took part in the first cohort, will get a coach versed in manufacturing and distribution of clothing. Blackwood, executive pastor at Family Community Church in Fresno, is gearing up to produce leather jackets with thin, removable polyurethane inserts at the elbows, neck and other pressure points for increased comfort. He plans to sell his jackets under the label Miliardo Fashion Luxury. Launch Central Valley came along at the "perfect time," he says. "I needed a community of accountability that would help me look at some of the assumptions in my business model to be sure I am positioned correctly." Blackwood discovered he needed to increase the price of his jackets to produce a profit after factoring in retail commissions, manufacturing expenses and shipping charges.
His goal is to help transform Fresno by enabling people to see beyond their self-imposed limits. "I want to be in a position where I can begin to employ others, as well as provide resources and mentoring for future generations to develop wealth," Blackwood says. "Then they can take that knowledge back to their families and communities to spread the concept that Fresno can move forward, whether that's in literacy, business or whatever the case may be."
The link between successful small businesses and markers of community progress like higher literacy rates is important. "Flourishing families contribute to flourishing communities and a host of positive social indicators," says Randy White, an FPOU associate professor who serves as CCT's executive director.
"When we seek the financial peace of the family, we experience the benefits of that peace." In a larger sense, helping people start small businesses nurtures their God-given impulse to lead a productive life, he adds. "For many, life has beaten them down and discouraged them to dream. Launch Central Valley is a vehicle to train people to dare to dream again and get the training and mentorship to make those dreams a reality."
CCT plans to begin several other new programs financed by the grant from the Lilly Endowment, White says.
They are:
A ministry certificate focusing on community economic development for Hispanic pastors who lead their congregations part-time while working at other jobs. Curriculum will cover subjects such as improving parishioners' financial literacy, training people for job readiness and starting small businesses that address community issues or problems.
Church-school partnerships that train congregations to assist elementary schools through tutoring, sports clubs and campus improvement projects.
Congregational training sessions six times a year at Fresno Pacific for pastors and other church leaders. The sessions will explore theological and practical approaches to mental health, racial conflict, concentrated poverty, violence, generational disconnects from the church and other issues facing communities. The Center for Anabaptist Studies at Fresno Pacific Biblical Seminary will help lead the training.
CCT also will expand Faith & Finances, an existing financial literacy program that helps churches assist vulnerable church and community members in avoiding exploitation and making good financial decisions.
https://www.meda.org/marketplace/launching-fresno-area-businesses/