By Scott Johnston, 2022 Spark Tank Award winner
Fresno Pacific and The Center for Community Transformation (CCT) once again held its annual Spark Tank Awards and Micro Business EXPO on June 15, 2023. This year marks ten years for Spark Tank and the fourth for the EXPO. The event was held at the Warkentine Culture and Arts Center on the FPU campus.
Each year the CCT selects applicants who submit their Social Business Plan through the CCT website for a chance to compete in a  pitch competition for a chance to win startup capital. Spark Tank focuses on growing and supporting businesses that have some social or environmental good as part of their business model. Four businesses were awarded funds this year, totaling over $20,000.
To be eligible for the competition, the businesses had to be considered a social enterprise. A social enterprise is a business that focuses on helping some social or environmental good.
The businesses receiving funding
The Inclusion Learning Center is an inclusive daycare and early childhood education program for children with and without disabilities.
The idea for the program came from the founders, Gaukue Xiong, Melissa Bertao, and Monica Peterson's work in early childhood education for a public school district. They would hear from parents about how hard it was to find childcare for their children with disabilities. This would cause most of these parents to quit their jobs or make other sacrifices to provide care and educational opportunities for their children. Xiong, Bertao, and Peterson said, "We have picked up the phone and personally dialed daycare programs only to be told they do not accept children who are "that disabled" or "maybe if they're speech delayed but not if they have Downs Syndrome." Xiong, Bertao, and Peterson plan to create an early education program that is fully inclusive and open to children with and without disabilities. "We want to be a model preschool program that rejects these notions and beliefs and delivers on the philosophy that all children, no matter their disability, deserve a quality early education." Xiong, Bertao, and Peterson said.
The Inclusion Learning Center received $12,000 in funding, the largest award ever given in Spark Tank history! Xiong, Bertao, and Peterson plan to use some of the money to build a sensory gym and to buy playground equipment that is "developmentally appropriate and accessible for kids with physical disabilities." "We genuinely feel so honored to be winners of the 2023 Spark Tank Award. We couldn't be more grateful to the Spark Tank judges for investing in us! Their faith in our social enterprise is a huge validation of our work and the social impact we can make.", Xiong, Bertao, and Peterson said.
Mommy's Helper is a postpartum, in-home support service
founded by Joevonna Bonner. She was inspired to start Mommy's Helper after she experienced postpartum depression. "I suffered longer than I should have," Bonner said. That's why she created Mommy's Helper, a service that serves "new and seasoned mothers" after they go home from the hospital. That help doesn't end at the hospital, it follows you home!" Bonner said.
Mommy's Helper was awarded $3,000 from Spark Tank. She and her team will use the funds to help pay for licenses and to lease a building.  "It was an honor and such a blessing to participate in a rewarding transformation. The Spark Tank award means a great deal to me because it (helped bring) my business to fruition." Bonner said.
Project Board Game is a faith-based non-profit organization with a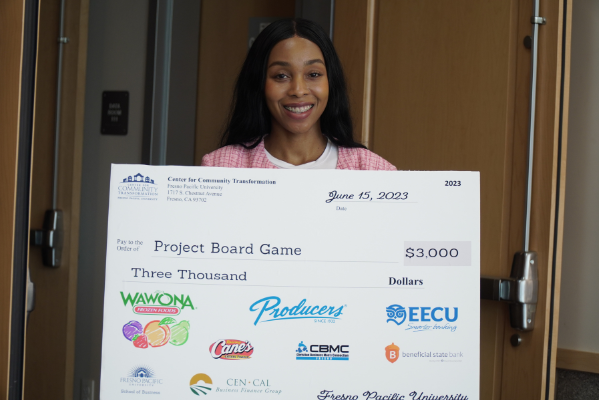 buy-one-get-one-free model. When a customer buys a game, one is given to a child in need locally or internationally. It was founded by Yasmine Creese-Brown, who sells board games focused on STEAM (Science, Technology, Engineering, Arts, and Mathematics). Project Board Game was awarded $3,000. Creese-Brown declined requests for comment to be included in this article.
Veterans Network (Vet Net) is a support group dedicated to helping veterans affected by unemployment as well as mental, social, physical, and other issues. It was started when John Hernandez (Vet Net's CEO)  was asked to write a paper by Richard Graham (Vet Net's President) for a Veteran's support group. "He wanted to help vets get through the maze of red tape to get their benefits," Henandez said.
Veteran's Network received $2,500 in funding from Spark Tank.
Hernandez added, "The education and support have put us in a great position to grow as an organization."  "We are grateful for the opportunity."
In addition to the businesses that won awards, there were 21 businesses that were represented at this year's EXPO, each founded by individuals and teams who had participated in one of the CCT Training entrepreneurial training programs. Many local businesses made the Expo and Pitch Competition possible, including Producers Dairy, Wawona Frozen Foods, EECU, Cen Cal Business Finance Group, CBMC, Beneficial State Bank, and Raising Canes. It was great to see the community come together to support small business development in the Central Valley. Congratulations to all of the winners. Thank you, and good luck to all of the businesses who participated in this year's event. Those of us at the CCT couldn't have done it without you all!