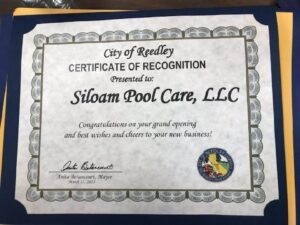 A dream to own a business has become an exciting reality thanks in part to Fresno Pacific University's Center for Community Transformation.
Mark De La Cruz and his wife, Melissa, started Siloam Pool Care, LLC part-time in March of 2022. The idea was birthed while Mark was working maintaining the Kings Canyon Unified School District Aquatic Complex.
CCT helped their idea flourish.
"Melissa and I found out about Center for Community Transformation, FPU's Micro Enterprise Cohort through an email sent through the Reedley Chamber of Commerce," he said. "Micro-Enterprise helped me realize that there were other people who are entrepreneurially minded like me. This propelled me and gave me the boldness to make the decision to leave my job at the school district and begin my own business."
Mark and Melissa say their mission is to build relationships with people and encourage them to do the same. Mark enjoys establishing links with customers in different neighborhoods as he provides the services that allow those customers to create bonds in their own backyards in a clear or sparkling pool or spa.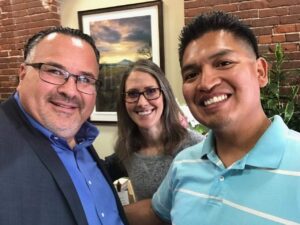 ​"We are excited for and proud of Mark and Melissa for taking the bold and courageous step to make their side hustle into their full-time business in the pool and spa care business," said Carlos Huerta, executive director of the CCT. Juan Garza, CCT community resource specialist, attended the ribbon-cutting at Siloam's new office at 1101 G St., Reedley. "Mark and Melissa's smiles were full of excitement," he said. ​